Committee Reports > List of Committees > Dáil > 1985 > Committee on Public Expenditure > Report - Service of Public Debt
Report
Service of Public Debt
The Committee on Public Expenditure when established by the Dáil on 21 June, 1983 was ordered:-
"to review the justification for and effectiveness of ongoing expenditure of Government Departments and Offices and of State-sponsored Bodies not included in the Schedule to the Order establishing the Joint Committee on the Commercial State-sponsored Bodies in such areas as it may select and to report thereon to the House recommending cost effective alternatives and/or the elimination of wasteful or obsolete programmes, where desirable".
The first programme contained in the "Comprehensive Public Expenditure Programmes, 1984" (P1. 2186) deals with service of public debt and this falls within the area of responsibility of the Minister for Finance, acting on behalf of the Government. This document shows that the service of the public debt is made up of interest payments, sinking fund payments and expenses of issue and management of the Exchequer's domestic and foreign debt. It derives from other expenditure programmes in that it is a direct consequence of borrowing to finance capital expenditure and current budget deficits. In recent years, high levels of borrowing have considerably increased the Exchequer's debt and consequently its debt service payments which are a first charge on current revenue. In 1983, debt service payments pre-empted 36½p in every pound of tax revenue as compared with 26p in 1975.
The Finance Accounts for the financial year January to December 1983 shows in Account No. XIV a breakdown of the actual outturn for 1983. This is set out at Appendix A of this Report.
A summary of expenditure and sources of income on the service of public debt set out below.
TABLE
Expenditure

1983 outturn

1984* estimate

Change 1984 over 1983

 

£000

£000

%

A.

Departmental Administrative Costs

90

99

+

10

B.

Interest Payments

 

 

 

 

- Domestic

751,618

898,784

+

20

 

- Foreign

578,804

679,000

+

17

 

Total Interest

1,330,422

1,577,784

+

19

C.

Sinking Funds and Expenses of Issue

125,973

131,800

+

5

 

Total Expenditure

1,456,485

1,709,683

+

17

 

Income

 

 

 

 

Exchequer

 

 

 

 

Vote 6, various subheads

90

99

+

10

 

Central Fund Services

1,456,395

1,709,584

+

17

 

Total Income

1,456,485

1,709,683*

+

17
It has been represented to the Committee that, in recent months, the increased cost of Ireland's foreign borrowing, arising from the continuing strength of the U.S. dollar, was of major concern, and the Committee were asked to what extent this happened arising from decisions taken to switch an increasing proportion of Ireland's foreign borrowing to the U.S. dollar market. The dramatic increase in the value of the U.S. dollar (and the Japanese Yen) have added enormously to the cost of servicing of Ireland's foreign borrowing.
The Committee note that the Finance Division of the Department of Finance deals with raising and provision of money for State purposes, banking and credit, monetary policy and the European Community.
It is not clear that there is any mechanism apart from Parliamentary Questions or general economic debates in the Oireachtas, whereby the Oireachtas can monitor or comment on decisions taken in relation to domestic or foreign borrowing. This lack of a formalised system for checking on decision-making and accountability in relation to the service of public debt programme has meant that a very large sector of public expenditure has been excluded from detailed scrutiny by the Houses of the Oireachtas. (See Appendix B - The role of the Oireachtas in relationship to National Debt).
The "Comprehensive Public Expenditure Programme, 1984" states that the cost of foreign borrowing is subject to considerable uncertainty. Over 60 per cent of the Exchequer's foreign debt is on a floating interest rate basis and is exposed to significant fluctuation in cost. For example, one per cent increase in international interest rates would add £40 million to the Exchequer's debt service charges. Foreign debt is also subject to exchange rate losses. More fundamentally, interest paid on foreign debt is a significant outflow of resources from the economy which can be met only through increased earnings from exports or from other foreign receipts. The significance of the above lends weight to the Committee's hope that the most up-to-date and professional advice is available to the Minister for Finance in reaching such decisions, particularly in relation to foreign borrowing.
Recommendation
The Committee note that sinking fund payments which represent the amounts set aside each year from current revenue to provide for the redemption of monies borrowed by the Government plays a relatively minor role in debt service (7.7 per cent in 1984). Because of the decreased role of sinking funds the Committee believe that this must now be replaced by a system of depreciation of assets.
Because of the impact of Government borrowing decisions on public expenditure generally, the Committee recommend that the lack of a specific formalised mechanism for Oireachtas discussion and analysis of decision-making with regard to domestic and foreign borrowing policy, be corrected. Some system of meaningful debate, on the specific issue should be developed, by discussions between the Minister for Finance, the Leader of the House and appropriate Dáil or Oireachtas Committees if necessary, taking into account the particular sensitivity of this question to our national economic well-being.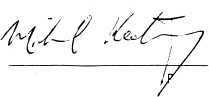 Michael Keating, T.D.,
Chairman.
1 July, 1985.
* 1985 Estimate: £1,991,000 (Change over 1984 = +17%). (Appendix C).